Discontinued & Vintage Pearl Drum Kits
The Pearl Musical Instrument Company, commonly referred to as Pearl was founded in 1952 in Japan and predominately makes drums kits, shell packs, drum hardware and percussion instruments. For more information on the Pearl brand check out our Full Review.
Listed below are some of the more popular discontinued Pearl Drum Kits. If you have any other superseded drum kits you would like to see added, please leave your thoughts in the comments section below.
Pearl Export Drum Set
The now discontinued Pearl Export Series is the bestselling drum kit of all time, having sold over one million units by 1995. The export Series was replaced by the Vision Series in Pearl's product lineup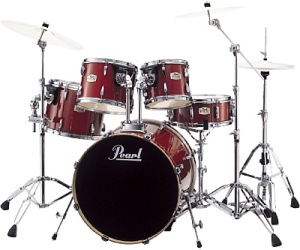 The Export Drum Kit came in four (4) different configurations and also typically included hardware and cymbals. The model variations included the EX, ELX, EXR and ECX all being made of 6-ply (7.5mm) popular except for the ECX which was made from maple.
The Export Drum Kit typically came in a five (5) piece configuration with two tom-toms mounted on the bass drum with Pearl's Integrated Suspension System (I.S.S.). Originally Pearl Export Drum Kits came with PowerPro hardware and a single chain drive bass drum pedal.
At a price tag of $1,000 for an entire kit, the Pearl Export Drum Kit is still highly sought after today in the overstock and used market. From a sound quality standpoint the export series falls into the intermediate drum kit range however having not been produced in years these sets continue to hold up, attesting to the durability and longevity of the drums.
For more information on the see our Pearl Export Series page.
Updated: The Export Series has recently been revived by Pearl. Follow the link below to buy one on Amazon
Pearl SoundCheck Drum Set
The Pearl SoundCheck is an entry level drum kit with shells made from 9-ply mahogany. Like most of Pearl's starter kits the Sound Check comes equipped with Sound Percussion hardware and a Zildjian ZBT Cymbal Pack. These two packs provide an 18" crash ride with mating double-braced boom stand and 13" hit-hats with a matching hi-hat stand. Also included in the hardware pack are a 14"crash, snare stand and chain driven bass drum pedal.
Add everything together and the SoundCheck is an out-of-the box ready to drum bare bones five (5) piece kit. SoundCheck shell packs are roughly $400 with the entire kit ranging from $500 to $600. At these price points, the SoundCheck provides an entry level option for beginning drummers with room to upgrade and expand.
Pearl SoundCheck shell packs are still available to purchase on Amazon, follow this link to buy the [REDACTED]
Update: Amazon no longer carries the SoundCheck but follow the link below to find used kits on eBay
Pearl World Series Drum Set
Pearl's World Series Drum Kits were first brought to market in 1985 with shells made of 7ply Birch, Mahogany and Super Laminate. World Series drum kits came with the option of lacquered painted colors dubbed the WLX (Prestige World) or covered finishes labeled the WX.
Pearl World Series drum kits were considered intermediate drums at the time and were manufactured until the early 1990s when they were replaced by the Prestige Session in Pearl's product lineup. While complete World Series kits are rare, full sets can still be found in the used market on places such as Craigslist or eBay for roughly $1,000.
Do you own any of these Pearl Discontinued Sets?
Have any questions or thoughts?
Leave your comments below