Acoustic & Electronic Drum Sets For Teenagers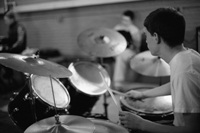 If your teen is interested in drums or percussive musical instruments, then you may be in the market to make a purchase of a youth drum set in the near future. Since it pays to know what you are investing your money in; this article will help enlighten you on drum sets specifically for teenagers. This quick review and guide is designed for parents with little to zero knowledge on the subject of drum sets.
Components of a Drum Set
A standard drum set typically has the following pieces of equipment:
One, a Bass (or Kick) drum: This is a drum that is played by a pedal and is typically operated by the right foot.
Two, a Snare drum: This is a drum that is mounted atop a specialized stand. It is placed between the drummers knees and played with drum sticks.
Three, a hi-hat stand and the hi-hat cymbals: The stand is where the hi-hat cymbals are mounted.
Four, mounted cymbals and tom-tom drums: These are played using sticks.
Playing a drum set takes place behind the comfort of a drum stool also known as a throne.
Youth Drum Set Questions
The major question that most buyers will often ask in regards to a youth drum kit is as follows:
1.) Who is it ideal for?
Typically, youth drum sets are suitable for anyone who is just blooming into their teenage years or someone who is above five foot tall.
An child or teen with a smaller stature might 'disappear' behind the kit and have trouble reaching all the components. A young adult who is exiting their teen years might make it look like a toy and not have the right spacing between pieces to drum with proper technique.
2.) Whats the Difference?
The main factor here of course is the size (dimensions) of the drums and the adjustable nature of the hardware (stands). A youth drum set is somewhere in the middle. Not tiny like a kids kit and not a full on adult set either.
3.) Why not buy a kids or adult set?
While the truth is practically anyone CAN play on any size set, that may not necessarily make it an ideal situation. Overall kit size, positioning, and cost here are the key factors. A kids drum set may not be advanced enough for a teen while an adult set may be too expensive and large.
Making the Decision
We might be nitpicking here, but if you are truly going for that sweet spot for your teen, a "youth"drum set will be the best option.
One important detail to keep in mind though, is that there are many poor quality youth drum sets available. When you have moved out of the kids drum set phase it is now wise to invest in a more popular brand. A few brands that have made a name for themselves are listed below:
Yamaha Youth Drum Set
Yamaha: The high end drums of Yamaha are manufactured in Osaka, Japan, whilst the entry level drums are produced in China.
The Yamaha JK6F46MK Manu Katche Signature 4 Piece Junior Drum Set is a great entry level kit for under $1,000.
If the drummer is a little more advanced the GigMaker or Stage Custom Birch that is constructed from 100% birch shells and comes in 8 finishes may be better.
Mapex Youth Drum Set
Mapex: If you want to constantly vary accessories for your performance, then Mapex is the brand for you. Additionally, the quality of wood that goes into building these drums ensures that sound quality is excellent.
With Mapex offering many options and variations, this is the kind of kit a young drummer can grow into. A teen could easily add to their Mapex kit as drumming proficiency or needs increase.
See that various options for the
Pacific Drums (PDP)
Pacific drums: PDP is a brand of DW that was created to cater to the beginner drummer market. This includes youth drummers. PDP drums have rich tone quality, the highest quality metal for hardware and great finishes. For the price PDP offers a lot of value and are great kits for the teenage drummer. The good news is that as the drummer progresses moving to DW Drums, a top drum brand, can be easier.
Other Acoustic Youth Set Options
Listed below are other popular drum set brands for youth entering their teenage years.
| | |
| --- | --- |
| Ludwig Youth Drum Set | Sunlite Youth Drum Set |
| Pearl Youth Drum Set | TKO Youth Drum Kit |
| Pulse Youth Drum Set | Union Youth Drum Set |
Korg Drums
Korg is an electronic musical instrument maker that was founded in 1962 in Japan and has a series of electronic drums and percussive synthesizers. Korg produces a WaveDrum line of electronic drum pads that are perfect for youth drummers looking to hone in practice skills for both their hands and sticks. The WaveDrum products are also reasonably priced starting at roughly $300.
If your child is between the ages of three (3) to seven (7) be sure to check out our post on Drum Kits For Kids.
Any Youth Drum Sets we missed?
Have you purchased any of the above sets?
Please let us know in the comments section below